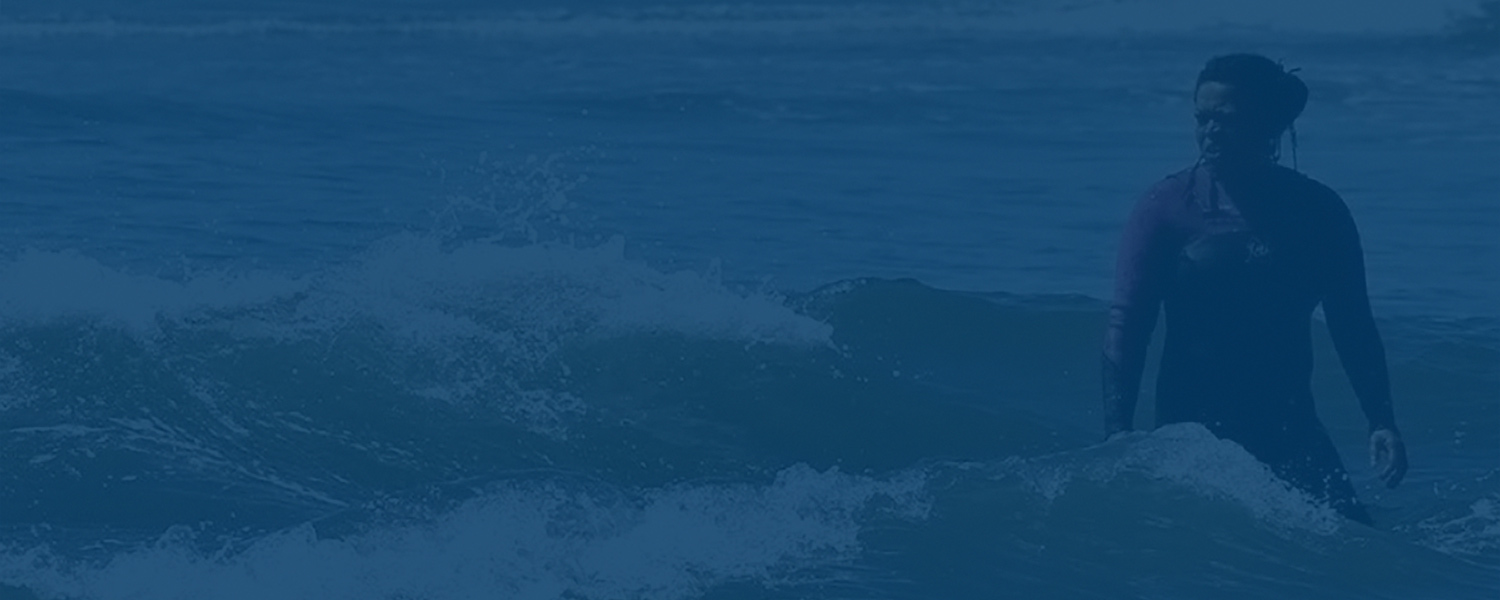 G

O

O

D
T
I
D
I
N
G
S
P
O
D
C
A
S
T
E
P
I
S
O
D
E 15
:
Rhonda Harper
Good Tidings Podcast 15: Rhonda Harper
Good Tidings Podcast 15: Rhonda Harper
Podcast | November 02, 2021
Join us for this episode of the Good Tidings Podcast, with host Larry Harper, Founder of the Good Tidings Foundation. This podcast is all about highlighting the good in people and what individuals are doing to make an impact in this world for the benefit of others. Today, Larry interviews Rhonda Harper, Founder of Black Girls Surf and Inkwell Surf and Skate Club, focusing on her background in surfing and how she uses it for good.
Rhonda's background as a black girl growing up in Kansas City, Kansas didn't exactly scream "future surfer"! But through the shows she watched as a child and the influence of her father, a water-loving Coast Guardsman, developed in her a strong draw to the water. She later joined the Coast Guard herself, and then moved to the Bay Area. A series of experiences enjoying the California ocean, visiting Hawaii, and being invited on a tandem surf led her into the sport of surfing. From that point, Rhonda found ways to bring together her varied interests of surfing, writing, and art; for instance, she worked for a time as a journalist and extreme sports managing editor for BASN. In this work, she noticed a lack of black people surfing professionally.
Because of this, after she left the Coast Guard, Rhonda went on to launch Black Girls Surf (and its parent company, Africa Surf International) and Inkwell Surf. She started operations in the US before expanding to Africa, and has introduced many black girls to surfing, developed some professional surfers, helped surfers navigate the WSL and ISA/Olympic aims, and began to develop a pathway in West Africa for progressing into professional surfing. Larry and Rhonda discuss The Ultimate Surfer, the relationship between surfing and skating, the inequity of surf equipment and access, and the ways in which the COVID-19 pandemic has positively impacted the sport.             
Rhonda also shares about the ocean bringing the girls she works with a sense of belonging and healing. Spending time in the ocean is, she says, both a life skill and fun. The ocean is a resource to steward and make available to all. Black people should experience the same welcome as others, and when black girls see professional surfers who look like them, they see themselves. Looking to the near future, Rhonda is planning a girls' tour as well as a tour of HBCUs.
Learn more about Rhonda Harper and connect on Facebook.
Learn more about Black Girls Surf and connect on Instagram, Facebook, and Twitter.
Learn more about Inkwell Surf and connect on Square, Instagram, Facebook, and Twitter.
Connect with Africa Surf International on Instagram, Facebook, and Twitter.
Learn more about the Good Tidings Foundation.
Don't forget to subscribe to the Good Tidings podcast on Apple Podcasts, Google Podcasts, Spotify, or wherever you get your podcasts!